We have just finished our annual Barn Owl nest box monitoring with some very positive results. Out of the 59 nest boxes that we checked this year, 31 nest boxes showed signs of occupation (owl pellets present) and 23 nest boxes have been occupied: twelve boxes by Barn Owls, eight by Cyprus Scops Owls, one by Common Kestrel, one by European Roller and one by House Sparrow. The fact that so many owls have located the nest boxes and a good number have chosen to breed in them gives great satisfaction, both to us but also for the local communities and the farmers hosting the boxes in their fields.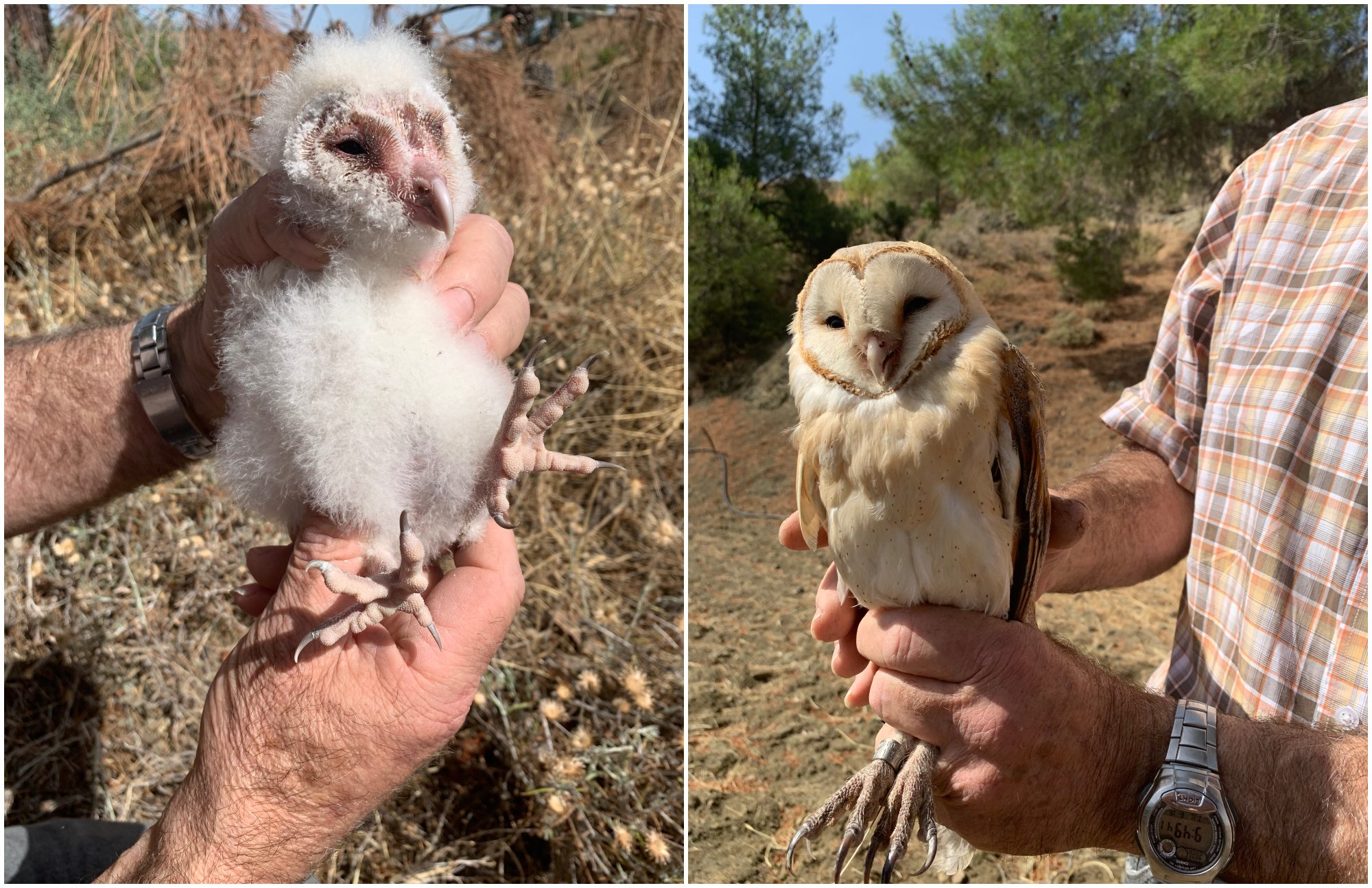 Our work with Barn Owls started back in 2015, when we received funding from the Tasso Leventis Conservation Foundation. In collaboration with farmers and farming communities, we began installing Barn Owl nest boxes around Cyprus in an effort to reduce the use of rodenticides in the countryside and encourage the Barn Owl as a biological method for controlling rodent populations. Since then, we have installed a total of 61 Barn Owl nest boxes across Cyprus. Adding this to the number of nest boxes also installed by the Game and Fauna Service, the Department of Forests and the Department of Agriculture, brings the total number of nest boxes installed to over 400. This effort has always been with the support of farmers, local communities or hunting clubs, all of which share the same vision: to stop using poison in the countryside, and instead control rodents using a biological method that does not introduce chemicals on our land and does not pose a risk to wildlife or human health.
A single Barn Owl can consume a minimum of 2,000 rodents in a year, since rodents make up 95% of a Barn Owl's diet. This makes them great farmers' allies against big rodent populations and can help farmers whose crops are damaged by rodents and who often resort to the use of poison. Encouraging Barn Owls as a biological rodent control is a method widely used in other countries. In Israel, this method has been successfully used since the 80s, reducing rodenticide use by 80% since 2006. Today, Israel has more than 4,500 nest boxes installed around the country.
The successful example of Israel paved the way for Cyprus to take this effort even further, by developing its own National Action Plan for the Barn Owl. Partnering up with the Game and Fauna Service, the Department of Forests and the Department of Agriculture, we drafted a National Action Plan, which was presented to the Minister of Agriculture, Dr. Kadis, in early June. The Minister has given his backing to a National Plan that describes the actions that need to be taken to roll out the nest box scheme on a national level. The draft plan covers actions to enhance work on research, education, reduction of rodenticide use, and the creation of an agri-environment scheme that will further promote the use of the Barn Owl nest box scheme by farmers. Under such a scheme, an interested farmer looking to reduce rodenticide use, could receive a nest box as well as guidance and support on placement, and be compensated for any damages he or she will probably sustain by rodents in the interval between the installation of the nest box and the occupation of it by a Barn Owl pair.
It is encouraging and rewarding to see our efforts, and those of governmental departments promoting this method, bringing results. We look forward to seeing more communities adopting this method and reducing poison use.