In March, BirdLife Cyprus published its Autumn 2020 anti-trapping monitoring report, marking significant progress in relation to illegal bird trapping. A notable 94% decrease was observed with regards to trapping with mist nets last autumn compared to 2002, the lowest trapping levels recorded since the start of our field monitoring.
This is remarkable progress and it would not have happened if BirdLife Cyprus had not been running its campaign against illegal bird trapping for nearly 20 years. And even though it had started off originally with a focus on field monitoring, it soon became apparent that bird trapping is a multi-dimensional issue with environmental, social, economic and political aspects to tackle holistically. Hence, our campaign was enriched and expanded to cover advocacy actions and, in more recent years and most importantly, awareness and educational outreach actions.
It is encouraging to see that our long-term anti-trapping campaign has started to pay dividends. It is an effort that we will surely continue in order to ensure that any decrease in trapping levels and a change of social attitudes towards this issue will be long lasting. And just as we are seeing a difference with regards to illegal bird trapping year on year, in the last year we have witnessed a series of incidents of illegal shooting of protected species at different 'black-spots'.
Our field team visited one of these 'black-spots' last October: Lake Soros near Meneou village in Larnaca district. Hunting around this lake, which is part of the Larnaca salt lake wetland ecosystem, is permitted during autumn migration, in the months of August to October. However, when our field team visited this site it discovered that tens of Bee-eaters and other bird species such as Barn Swallows, flycatchers etc. had been illegally shot. It was obvious that a 'whatever flies gets shot' practice was applied at this location. BirdLife Cyprus condemned the incident publicly and called upon the competent authority, the Game and Fauna Service, to increase patrolling at this site and to effectively enforce the Birds law.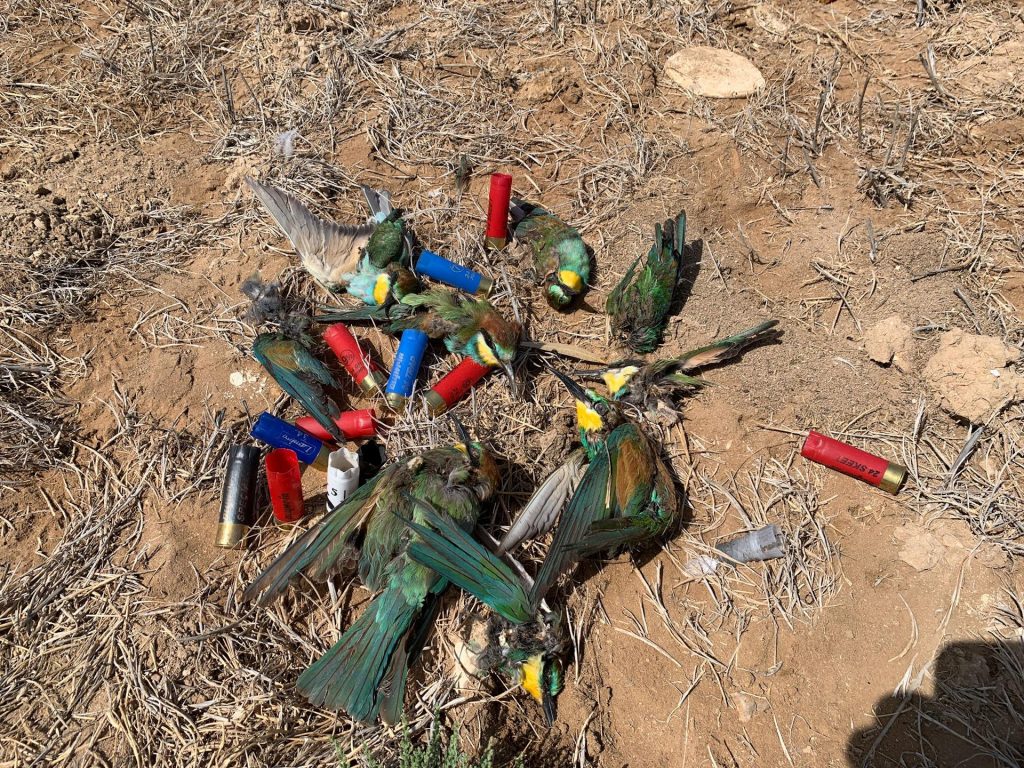 A few months after this shocking incident, we received information from members of the public regarding two birds of prey that had been found shot, a Goshawk in the Machairas forest and a Long-legged Buzzard in the Avdimou area. The former was taken to the Game & Fauna Service Rehabilitation Centre for treatment, while the latter died shortly after at the vet clinic it was taken to. Again, BirdLife Cyprus condemned these incidents in a joint press release with the Game Service that was released in early December 2020.
Unfortunately, the incidents of illegal shooting of protected species continued, the latest case including an injured flamingo that was found and rescued by our field team at Paralimni lake during a waterbird survey in late January. X-rays of the flamingo confirmed that its injuries were due to illegal shooting, damaging irreversibly one of its wings and leading to the loss of one of its eyes. The shot flamingo has been receiving treatment at the Game Service Rehabilitation Centre, but it will never be possible to release it back to the wild, sadly.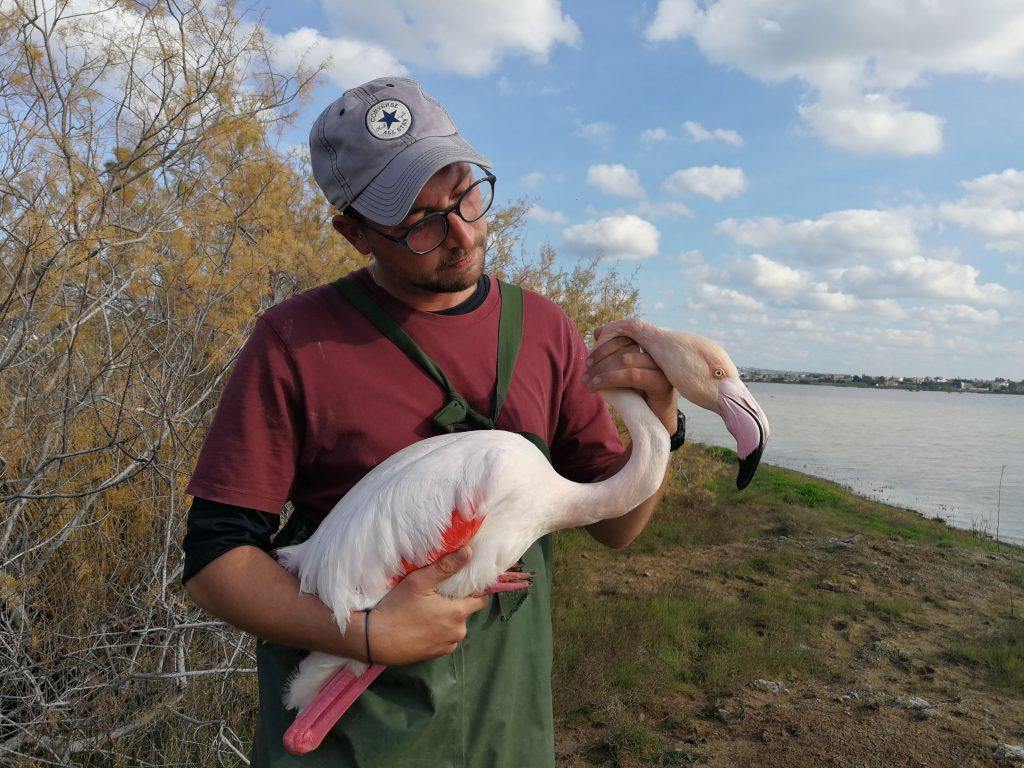 The illegal shooting of protected species, even of emblematic and flagship species such as raptors and flamingoes, has always been an issue. However, the recent incidents indicate it may be growing into a widespread phenomenon. And we fear that this phenomenon will only get worse with the ridiculous law amendment passed last December by the Cyprus Parliament. This decreased the fine for the illegal shooting of up to 50 birds from a list of 14 species (which by the way are the target species for trappers and poachers) to only 200 euros, while before the fine was 2000 euros for one bird illegally shot! Such low fines are surely non-deterrent, in fact we believe that they are practically 'decriminalizing' the illegal shooting of protected species.
This law relaxation is definitely a huge setback for bird protection and conservation. We have made real progress in recent years on the illegal bird trapping front. However, we are now facing a new, and perhaps even bigger challenge – the illegal shooting of protected bird species. In recent months, we have been checking specific, well known 'hunting blackspots' and this has unearthed an even bigger problem than we had originally expected.
In the last few years, a section of the hunter community has presented our monitoring efforts at these blackspots and those of other organisations as a 'disruption of their legal hunting right'. In fact, in a meeting last November between the Cyprus Hunting Federation and the Ministers of Interior and Justice, the federation was proclaiming its success in 'persuading' the Ministers to support their call for the 'disruption of legal hunting' by 'activists' to be made a criminal offense. We have already expressed our strong objection, writing to the relevant Minister that this claim is ungrounded, illogical and any law 'banning activism' practically unenforceable.
Clearly, our monitoring of such blackspots has annoyed the hunters, who are now claiming that environmentalists are disrupting their legal hunting 'right'. Firstly, shooting protected species is illegal under national law. Secondly, hunting is a privilege, not a right, which is granted to a hunter provided they have a license and follow all the provisions set out in the legislation. Moreover, it is our duty as responsible citizens to report any illegalities and our right to demand that action be taken to stop them by the competent authorities, including of course the illegal shooting of protected species.
As BirdLife Cyprus, we aim to step up our efforts to tackle the illegal shooting of protected species at certain 'blackspots' such as Lake Soros and Paralimni Lake. We are aware of the challenge that lies ahead and that the hunting lobby of Cyprus has strong political influence. However, the progress we have achieved in recent years in tackling bird trapping with mist nets gives us hope that we will able to face this new challenge, taking one step at a time. We are hoping that organized hunting associations will support our efforts to end illegal bird shooting, but also to work with us on other issues such as habitat protection.