The campaign against illegal bird trapping is one of the key activities of BirdLife Cyprus. A systematic, continuous surveillance programme regarding illegal bird trapping in Cyprus was developed and implemented by BirdLife Cyprus and the RSPB (BirdLife in the UK) in consultation with the competent authorities, and has been ongoing since 2002. Thanks to this monitoring programme, BirdLife Cyprus has the longest record of field data and is able to deduce reliable long term trends and have an overview of the bird trapping situation on the island.

The surveillance programme follows a 'Bird Trapping Monitoring Protocol' that was developed by BirdLife Cyprus and the RSPB, in consultation with the Cyprus Game & Fauna Service and the British Sovereign Base Area (SBA) Police at the start of the programme. The survey area covers the Larnaca and Famagusta districts, hotspots for bird trapping, including the Eastern Dhekelia Sovereign Base Area (SBA).

The monitoring is undertaken by visiting a random selection of sample squares (1 km2) during daytime hours, with a focus on detecting mist netting activity – limesticks are also recorded if detected. The squares selected are stratified to ensure a representative coverage of areas under SBA Administration and the Republic of Cyprus.

The surveillance programme is undertaken in close co-operation with the competent authorities of the Republic of Cyprus (the Game & Fauna Service) and the British controlled Sovereign Base Areas (SBA Police). When trapping paraphernalia is found, the BirdLife Cyprus team contacts the relevant enforcement authorities and reports its findings on the same day. It should be noted that the BirdLife Cyprus never enters private and fenced properties.

The BirdLife Cyprus surveillance programme is funded by RSPB (BirdLife in UK) and NABU (BirdLife in Germany).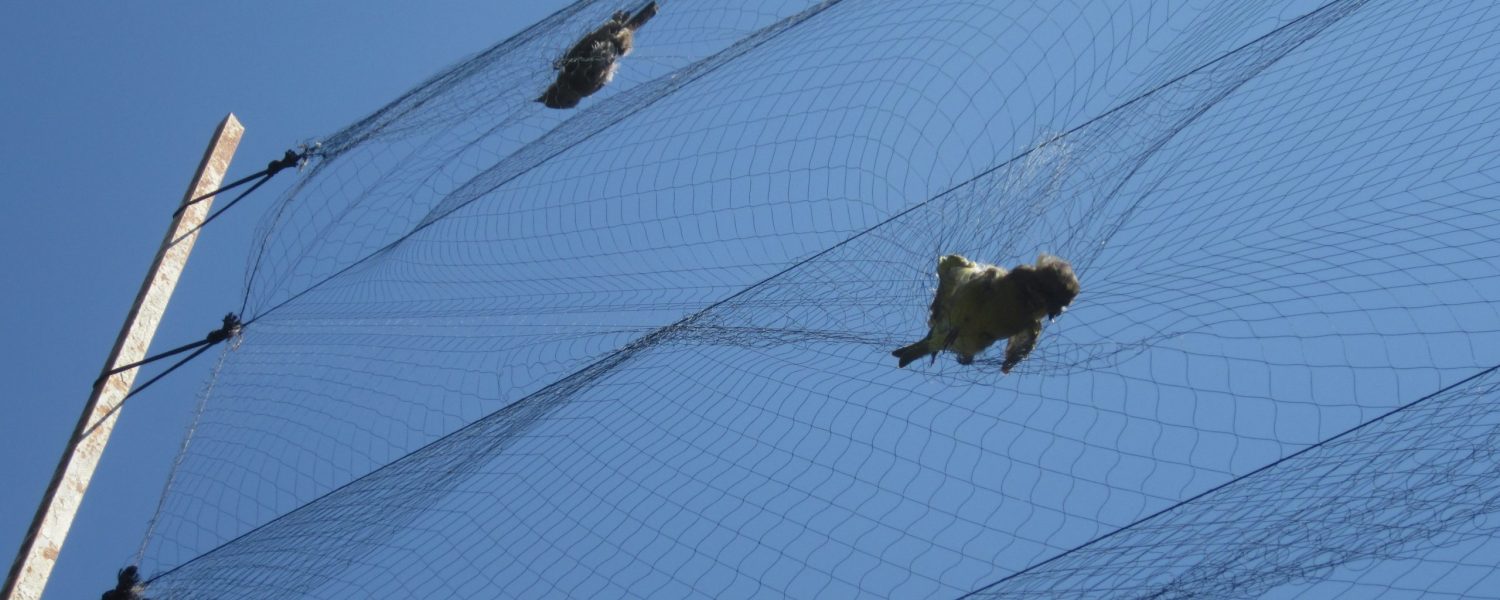 In recent years, BirdLife Cyprus and the RSPB have supported competent authorities, namely the SBA Police, with enforcement action on the ground. Using covert surveillance, a technology widely applied in the UK to tackle wildlife crime, the RSPB Investigations team has worked closely with SBA Police Officers placing hidden cameras within the Eastern SBA to capture this illegal activity. This ongoing successful cooperation has resulted in numerous trappers being caught and prosecuted, receiving heavy fines (relevant RSPB blog here). It has been a tangible example where a partnership approach between a competent authority, namely the SBA Police, and environmental NGOs can strengthen enforcement action, and we hope the Cypriot authorities adopt a similar approach. The covert work has been possible thanks to funding received from MAVA Foundation and Oak Foundation since 2016.
Below you can find the reports from 2010, presenting and analysing the findings from our surveillance programme